Robert Dane, founder and chief executive officer of Ocius Technology, unpacks how interconnected networks of uncrewed surface vessels can revolutionise the Royal Australian Navy's intelligence, surveillance, and reconnaissance capabilities.
To learn more about how Ocius is transforming the uncrewed surface vehicle market, click here.
---
Liam Garman, editor of Defence Connect: Thank you for joining me today, Robert. Uncrewed surface vessels (USVs) have captured the defence industry's attention recently, promising to revolutionise Australia's maritime capabilities. Why is it so important for Defence and the Commonwealth to grasp onto opportunities offered by autonomy in national security?
Robert Dane, founder and chief executive officer of Ocius Technology: Thanks Liam.
At 8.2 million square kilometres, Australia does not have the population or industrial capacity to crew enough vessels to monitor our EEZ (exclusive economic zone). Since Australia's adversaries have the ability to build and crew large numbers of vessels, we need to look towards asymmetric solutions to develop a qualitative overmatch in the maritime domain. Autonomous solutions, like Ocius' Bluebottle, allow the Royal Australian Navy to close the quantity gap by fielding large numbers of affordable vessels and enable the Australian Defence Force and Australian Border Force to maintain security in our approaches.
Garman: How are they employed?
Dane: Each Bluebottle is typically deployed to areas of concern on average for between 30 to 50 days. They are powered by renewable energy (wave, solar, and wind), so theoretically, they can be deployed indefinitely, but the limitation is biofouling or marine growth. While at sea, the Bluebottles employ artificial intelligence and machine learning to monitor for anomalies. The Bluebottles use radar to detect the presence of a vessel, which, if not transmitting AIS (automatic identification system), the Bluebottles then take high-resolution zoom images which are sent back to Defence for investigation and if there is reason for concern, such as the presence of a threat actor or illegal fishing, crewed assets can then be deployed for interdiction.
Garman: So, what makes the Bluebottle different from other uncrewed surface vessels on the market?
Dane: There are many conventionally powered USVs on the market, but in the persistent renewable energy USV market, the Bluebottle developed for Australia's wide range of conditions has several fundamental competitive advantages that enable it to deploy for longer periods and survive in even the harshest conditions.
The Bluebottle generates power from three different sources of renewable energy: solar, wind, and waves.
This means that the Bluebottle is able to generate propulsion no matter the weather conditions e.g. storms, doldrums, currents etc, enabling the vessel to remain at sea indefinitely. It also provides power redundancy, meaning that if one piece of hardware becomes damaged, such as the sail or flipper or propeller – which can happen to all vessels in rough seas – it will be able to stay out of trouble, continue its mission or autonomously get home.
It does this via several unique design features. First, instead of a traditional sail, the Bluebottle boasts a rigid sail with inbuilt solar panels that can simultaneously sail the ship and collect the sun and importantly, compared to our competitors, it can be retracted down and completely disappear into the deck "like the wing of a bird" to give zero windage. It doesn't take any cargo space and a bonus feature we never contemplated is that it gives us "tactical range advantage", meaning, we can approach a target with the sail down from 800 metres and be very difficult to detect and yet we can be taking high-res images.
Second, it boasts a unique rudder at the front with a "flipper" or "wave-harnessing device" that gives forward propulsion with the "pitching" of the Bluebottle in whatever direction the rudder is pointed. This flexible tool does not have moving parts or make noise, and in a storm, operates similar to a sea anchor and with zero energy, brings the bow round into the seas and provides stability. To further develop this concept, we have one of our post doc engineers at UNSW working with ADFA to complete a masters on the rudder flipper.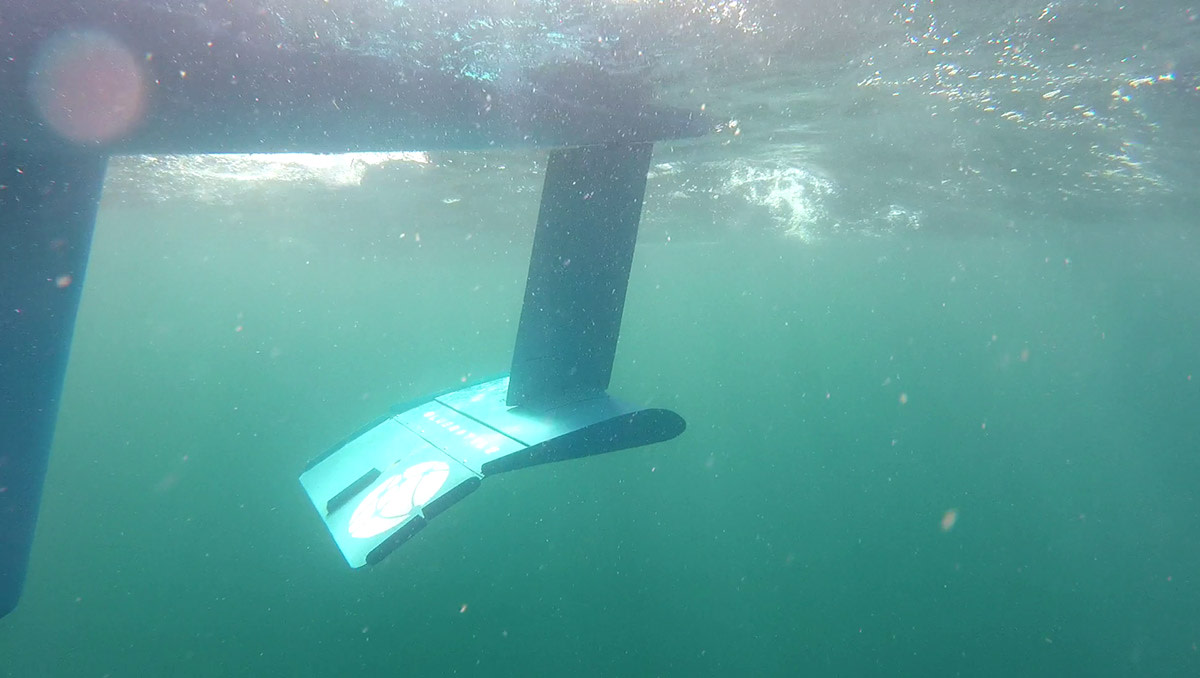 Third, the Bluebottle, unlike most sailing boats, has a large fishing boat-type keel, providing enough storage space to fit the vessel with a unique keel winch that can be fitted with modems or sensor array.
Finally, a feature not related to sailing but has saved us a fortune and greatly reduces the logistic requirements to operate a Bluebottle for our customers is that a Bluebottle is a 22' boat on an RTA approved trailer that can be towed by an SUV and launched from a council boat ramp, without a crane or support boat.
While we've observed significant success, we continuously strive to improve. Following the completion of each mission, we identify what limitations – if any – our hardware is experiencing and update the vessel accordingly.
A focus becoming more important for us is overcoming biofouling on our ships. As the rate of biofouling is geographically dependent, we are trialling new anti-fouling solutions that will ensure the ships can be deployed for even longer across a range of hydrographic conditions.
We also continuously strive to improve the software that supports the ship, which can be updated mid-deployment and change actions of hardware on the boat.
These capabilities have been tried and tested across the broad array of oceanic conditions that surround Australia, thriving on the different currents and winds across Australia's east and west coasts, doldrums to the North, all the way through to navigating the straits and reefs off the Kimberley.
Garman: Why would a country or customer select the Bluebottle?
Dane: There are no shortage of diesel-powered USVs on the market. For countries with small EEZs like Israel and Singapore, they make sense. But for Australia and our Pacific neighbours, we have vast areas of ocean with few assets and people. We need a USV and can persist on long deployments, cover vast areas, maintain a low profile, and be cheap to run. What sets us apart from other renewable USVs? Our solar, wind, and wave power generation provides us with unrivalled redundancy and performance where we have unequivocally outsailed our rivals in Australian conditions in big seas and strong currents, our keel winch, and our minimal logistics.
Garman: It's fantastic to hear that Ocius has developed this technology. How can it be deployed in military and civilian taskings?
Dane: Fantastic question, Liam. The Bluebottle can gather ISR, weather data, and provide gateway communications capabilities across Australia's substantial EEZ.
One application of the Bluebottle is to combat illegal fishing and transnational crime. Typically, when criminal actors operate in Australian waters, we deploy planes to maintain ISR over their activities. Planes are easily spotted, and the criminal elements know that it will take time, often 10–12 hours for a patrol boat to arrive – providing ample time for the criminals to depart. With the Bluebottle, we can sit with our sail down within 800 metres of the illegal boats, document their activities via high-resolution cameras, relay the images and the direction they flee to the Australian Border Force or Royal Australian Navy vessels so they can interdict.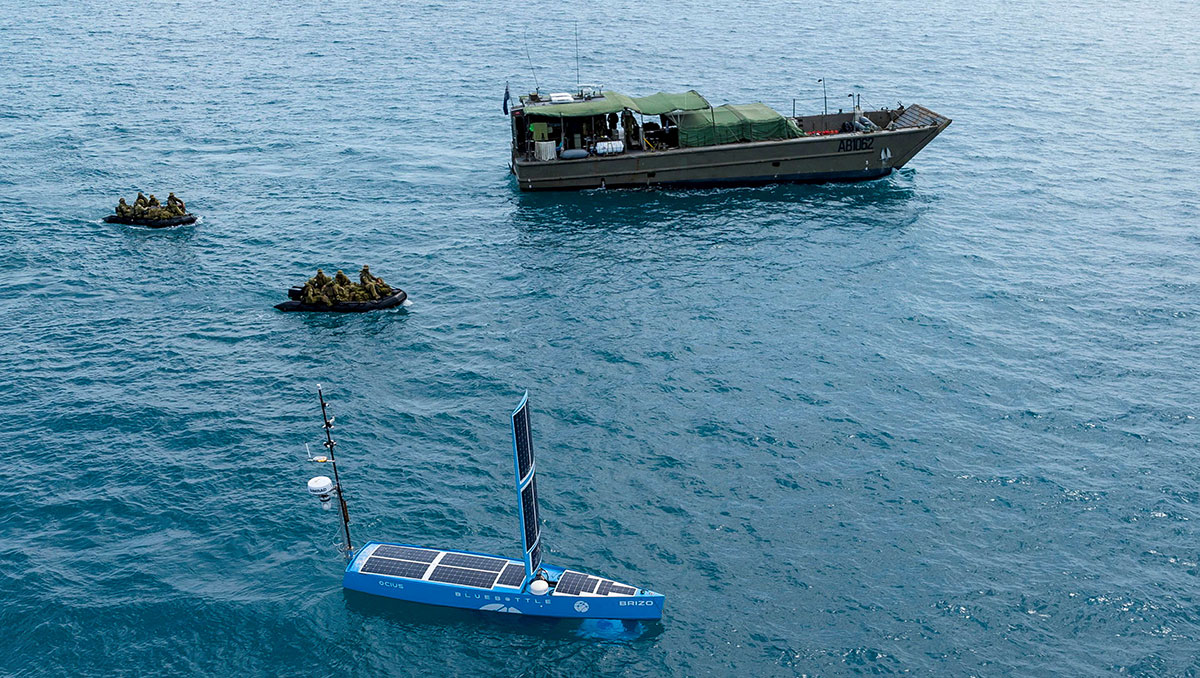 We're also working closely with Thales Australia here to deploy their thin line array for anti-submarine warfare (ASW) demonstrations.
The Bluebottle has also been deployed to support primary industry by tracking environmental standards and conducting hydrographic research, including working with the oil and gas industry to monitor marine mammals. We have also partnered with Minderoo and the CSIRO on an environmental DNA (eDNA) project scheduled to commence next year which will improve our understanding of fish stocks. Sampling eDNA will potentially be a huge boost to scientists to assess fish populations through DNA, as opposed to simply counting fish.

Ocius has also proudly partnered with Marine Parks Australia to detect illegal activity. The Bluebottle has also been deployed in seabed mapping operations locally through the HIPP program, the HydroScheme Industry Partners Program, which is to map Australia's EEZ by 2030, and also in Japan. Currently, 80 per cent of the world's oceans are unmapped, but it is incredibly important to identify and know underwater landmarks.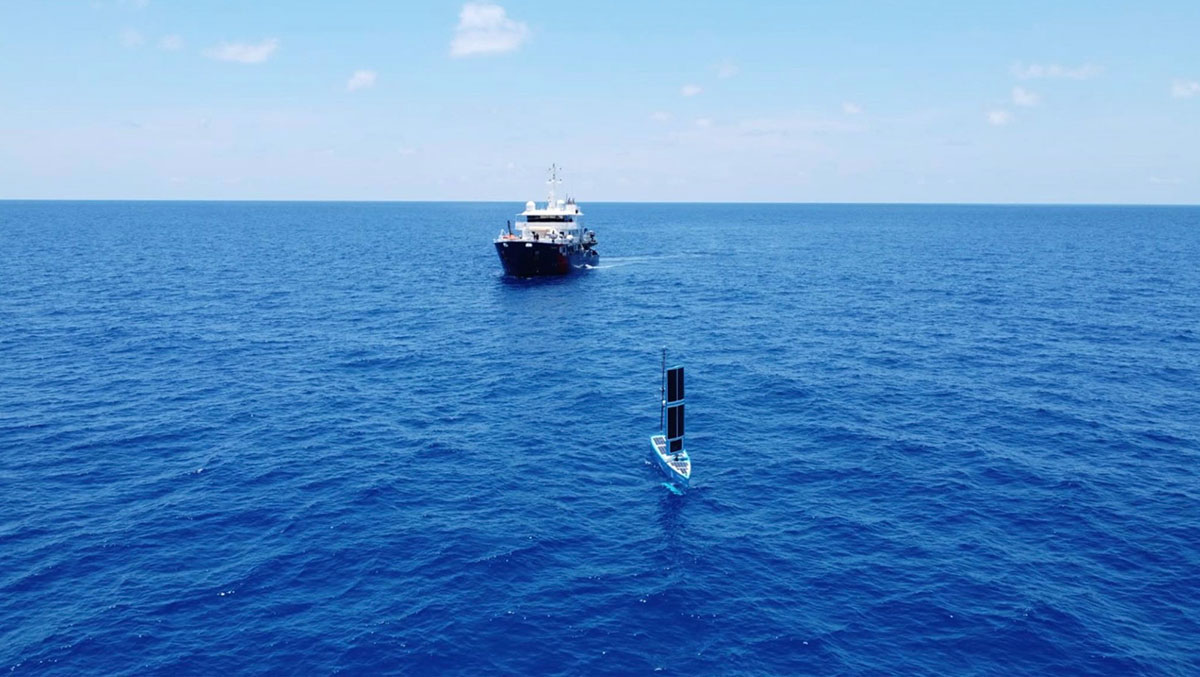 Garman: The Bluebottle is billed as a self-driving and autonomous system. To what extent is it independent of the operator?
Dane: Under AMSA regulations, we have a human on the loop 24/7 as part of our ground control operation team. The operations are overseen by a senior watch officer who moves the fleet in accordance with the customer's wishes. Meanwhile individual Bluebottles are overseen by more junior ground control operators. The number of vessels that each operator oversees is dependent on the intensity of the deployment, but generally, we aim for a "capability brick" of five, so that we have three Bluebottles are in the area of operations (AO), one in transit and one in maintenance.
To pilot the vessels, operators would set a waypoint for the Bluebottle. The boat will then autonomously navigate to the waypoint, with the operators alarmed in the event of maritime traffic or weather events. We are striving to continuously refine our autonomous capabilities, including onboard machine learning that enables automated detection and classification of the Bluebottle's high-resolution imagery.
Garman: The Bluebottle sounds like an important force multiplier. How did you originally develop the concept of the Bluebottle, and how did your company develop the skills required to achieve this?
Dane: I had attended a solar boat race on Lake Burley Griffin in 1996, where the vessels had solar panels flat on the deck like the roof of a solar car. All participants were trying to deliver marginal improvements over one another – 3 per cent improvements to motors here, or 3 per cent improvements to hulls there. For some reason, I started wondering how a solar boat could harness sun and the wind and do it in a seaworthy way. The next year, I asked the judges, could we enter a concept boat where we put the solar panels on sails like big Malibu surfboards and angled them to the sun and the wind. They said yes, and we entered a prototype in the same race the following year and came first. We did 60 kilometres in six hours and the next solar boat did 30 kilometres.
Nothing happened for two years but in 1999, we had the opportunity to build a 100-passenger ferry for the Sydney Olympics. In 2000, we received a $1 million government Greenhouse Office grant to build the Sydney Solar Sailor ferry, for which we were awarded the Australian Design Award of the Year in 2021 and operated successfully on Sydney Harbour for 10 years carrying tens of thousands of passengers. We continued building hybrid ferries for clients around the world with four still in use in Hong Kong which use half the fuel of the ferries they replaced.
However, in 2008, with the GFC and oil at $30/barrel, "green" ferry enquiries dried up but we were asked by an American company could we apply these skills in the security domain to develop a platform that could go to sea "forever". Alongside the operations of ferries, we developed a prototype, Nemo (No one), which is currently displayed in the Maritime Museum. The 10-foot Nemo proved that we could develop a technology that could be deployed indefinitely, receiving interest from Thales Australia and the DSTG, and through the Defence Innovation Hub receiving innovation grants totalling over $10 million from the government in 2015, 2017, and 2020.
The Bluebottle was a quick success. Our final grant in 2020 was for the demonstration of five Bluebottles out of Darwin. During a trial exercise, the vessels began detecting illegal activity and over the following four months, they were rotated through areas of concern to combat illegal fishing.
The Bluebottle completed its trial in March 2022. Realising the Bluebottle's potential, just days later, the ADF engaged us again for additional trials. This has culminated in an order for five Bluebottles and an additional $2.7 million contract to operate four of the five Bluebottles which are deployed to Jervis Bay to take part in anti-submarine warfare exercises.
The Bluebottle is a uniquely Australian design, developed using local research and development. In addition to the postdoc project currently being completed through UNSW–ADFA on the flipper, we're employing UNSW students, engineers and postdocs at UNSW across the mechatronics, computer science, and engineering faculties who are also passionate Sydney to Hobart and world champion match sailors. A fitting combination! We have also supported Australian academia, providing researchers with hundreds of hours of free ocean data.
Ocius' research and development program doesn't stop at the Bluebottle either. In research collaborations with UNSW computer science, machine learning, and AI people, we are also creating the new iDrogue capability which is an "intelligent net" that can catch autonomous underwater vehicles at "calm depth". We also have engineers working on a scale model prototype of our "Loyal Shipmate" project which is a very fast uncrewed USV that can carry significant payloads, significant distances and integrate onto ships.
Fundamentally, we believe that cooperation makes things happen quicker. In addition to our partnership with UNSW, we continue to partner with RAN, DSTG, Thales Australia, L3, Blue Ocean and hydrography companies in Perth, Acacia, PRAXIS, and many others. We have a diverse, almost 100 per cent, Australian supply chain. We focus on what we're good at to make a cheap platform for others to deploy their payloads. I learnt in the hybrid electric ferry business that it's easier to sell overseas if you have a business here, so contrary to the wisdom of going global early, we're working hard here to exceed expectations in demanding conditions. Now we have begun discussions with several primes in USA and Europe.
At the core of our company is a belief in innovation. While Australia's adversaries can throw money and people at problems, we have to be prepared to overcome them with a qualitative overmatch.
Garman: It's encouraging to hear how Ocius is paving the way for continued maritime research and development. Thank you so much for your time today, Robert Dane!
Dane: No problem, Liam. It was greatly appreciated!