How the lesser-known Pillar 2 of the AUKUS agenda may drive defence and space specialists to make a leap from their domain of expertise into roles of leadership.
Unsurprisingly, the lion's share of discourse about the trilateral AUKUS security agreement has centred on how it will reshape Australia's defence capabilities. Far less attention has been paid to the significant opportunities it's unlocking to boost Australia's executive leadership ranks as the education ecosystem shores up its support.
Indeed, the demand for new sets of capabilities to successfully deliver on the AUKUS agenda, coupled with the corresponding innovation making its way into tertiary curricula, is opening up many career pathways for those in the defence industry – some perhaps unexpected.
And that's because many of the new capabilities required are not just technical.
To date, much of the discussion has centred on Pillar 1 of the trilateral agreement which focuses on developing Australia's submarine defences. This will require a workforce with the necessary skills, training and qualifications to build, operate and sustain a conventionally-armed nuclear-powered submarine capability. An array of education investment is well underway on this front.
But the lesser-known Pillar 2 is all about working across the three partner countries – Australia, United Kingdom and United States – to build joint advanced capabilities, including in cyber, artificial intelligence, quantum technologies, innovation, information sharing and more.
Delivering on Pillar 2 will no doubt be complex but, in many ways, quite revolutionary in terms of how the three participating nations will need to interact with each other, with industry and with other nations. It also requires new sets of workforce capabilities, well beyond technical skills. Specialists in the defence sector are likely going to need to make a leap from their domain of expertise into roles of leadership; and those in leadership roles will need to adopt new ways of thinking and build up networks, to drive cultural change and push new, complex projects spanning multiple decades, navigating international agendas and geopolitical issues, and get better at commercialising new ideas.
Importantly, it's also likely to require many people to unlearn some of the working approaches of the past – often a difficult thing to do.
As demanding as the task appears, the potential for career-boosting opportunities for sector professionals is huge.
And it's a challenge being embraced in some quarters of the education ecosystem, as new shoots of innovation appear in the way defence leaders can be supported to boost their capabilities.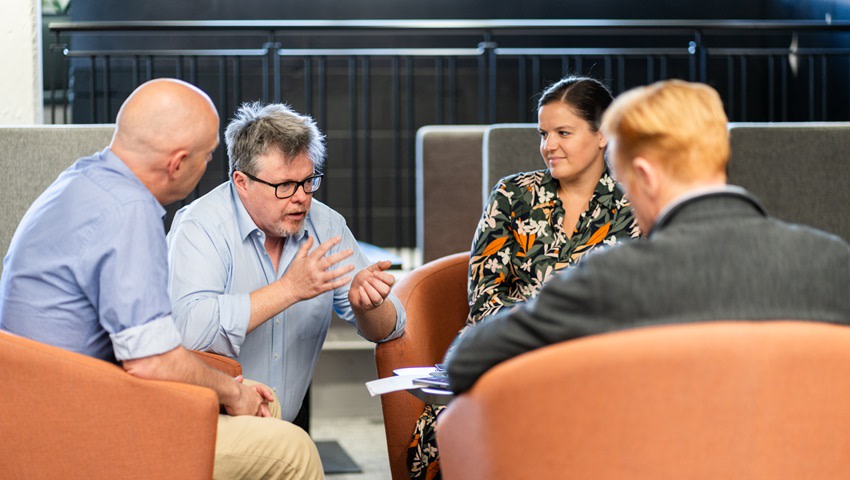 The University of South Australia (UniSA) has been a first mover in this realm. UniSA has partnered with universities in countries that reflect the trilateral AUKUS agreement - the University of Exeter in the UK and Carnegie Mellon University in USA – to launch this year a first-of-its-kind Global Executive MBA in Defence and Space. The program has been tailored for executives and senior managers from defence contractors, uniformed and non-uniformed defence personnel and civil servants, and features a combination of online study and intensive face-to-face residential teaching blocks in Adelaide, Washington, Pittsburgh and London.
MBAs have evolved in recent decades (UniSA has offered an MBA program since 1980), moving from an initial foundation based in generalist management to programs that embed the transferrable leadership capabilities needed to adapt to the dynamic geopolitical, technological, social and ethical challenges of the future landscape. We know adaptation requires a muscle that's not often used and as part of the change adoption process, we ask students to re-examine themselves to understand what their leadership contribution is like and what it could be.
We often see students graduate with a better understanding of how to be more entrepreneurial and adaptable in their thinking, others with more confidence in negotiating and handling difficult conversations with conviction, and others with new strategies for wrestling with the ethics of a decision or project – skills that are essential to the future challenges in defence and space.
This new tailored MBA program from UniSA will no doubt be joined by a raft of other innovative learning opportunities across the education ecosystem with a common ambition to build the leadership capabilities of professionals in emergent growth sectors such as defence and space.
It's a golden opportunity, which I'd encourage both professionals and other tertiary institutions to embrace.
And while the impetus for this trend has been the need to meet the ambitions of the AUKUS agreement, I'm excited by the legacy it's set to create well beyond the defence and space sectors in supporting the next generation of leaders.
Professor Lan Snell is the Dean of Programs (Postgraduate) at University of South Australia Business and has extensive experience designing innovative curriculum architecture in a university context.